Djakovic Dragan – January 2018 graduate – Serbia:
Hello everyone. First of all I would like to say thanks to everyone involved Mr. Trevor, Diana, Gvidas, office girls who work together with them in organization.
Before this I've been already working on the ship and listened a lot about this casino school in Klaipeda. At one point I decided to go for it and applied.
During this time here I enormously improved my calculation skills (for which I was thinking will be mission impossible), learned to play Black Jack and American Roulette games.
For me personally, biggest difficulties were chipping and card spreading on Black Jack, but at some point (for me it was around third/fourth week) all of it comes by itself.
Most important thing is to be patient with yourself and follow all instructions from Gvidas & Diana and you'll be fine.
Klaipeda is interesting city and place to be.
It's a liiiiitlle too much cold for me, but all in all its nice place to be.
I was in apartment with three more roommates and it was okay and relatively close to training center.
Andriunas Marius – January 2018 graduate – Lithuania:
Hello my name is Marius. I am from Lithuania. First of all I want to say thanks to all office girls helping me with all the documentation procedures. I have spent 5 weeks in Klaipeda learning how to become qualified casino dealer. Between February 13-16th had opportunity to participate one of the greatest LIGHT SHOW festivals in Klaipeda. Apartments were warm and cozy during my stay one of coldest month in Lithuania. Since I have started practicing dealing BLACK JACK and AMERICAN ROULETTE, I have definitely improved my skills since I came. I am thankful to my teachers Gvidas and Diana, who were patient with me during all 5 weeks of training period in Klaipeda. Thank you Mr. Trevor for sharing your professional knowledge. Finally big thanks to Casino Logistics for this opportunity to get career in the cruise ships.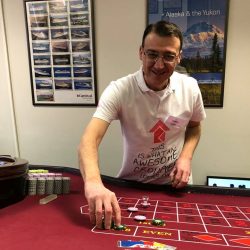 Zivkovic Vladica – January 2018 graduate – Serbia:
Casino logistics croupier training in Klaipeda was one of the most interesting experiences that I had.
I wanted to change my professional career and applied for this training. It was hard for me at first to adopt rules and techniques that dealer job requires since I didn't have a chance to participate in American Roulette and Black Jack games not even as a player.
After five weeks of training I can say that coming to Lithuania was one of my best decisions and I am confident that I will enjoy my new dealer career.
This wouldn't be possible without our fabulous instructors Diana and Gvidas. Highly professional and dedicated with ton of experience they gave us all information and tought us skills we need. Furthermore, they were very helpful regarding all other things that made our staying in Lithuania pleasant.
We had nice apartment not too far from training center. Klaipeda is very beautiful town with a lot of interesting places to visit even in freezing cold weather.
I want to thank Mr. Trevor once again for this life changing opportunity.
At the end I want to say that I have only high recommendations for Casino logistics school and that their reputation for being the best school for croupiers is definitely warranted.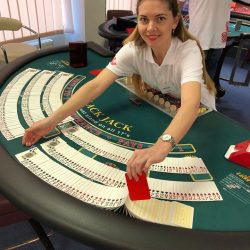 Kravchenko Natalia – January 2018 graduate – Ukraine:
Hi. My name is Natalia Kravchenko. I'm from Ukraine. I have been worked on the cruise ship before like as a waitress. After 2 years break I decided to change department and now I'm here in Casino Logistic. Thanks Mr. Trevor for opportunity to be here. Thanks girls Olena and Irina for your help in any questions. BIG thanks to Diana and Gvidas for your patience and professionalism. They are teachers it the high professional level. I'm glad to be here, get the new skills, it was not so easy from the beginning. But what can I say I LIKE IT !!! It was really interesting and productive time in the Casino Logistic training school!!!
Kazatskaya Anastasiya – January 2018 graduate – Belarus:
Thanks Casino Logistic for giving me the opportunity to change my life and get new skills and new step in my career as a croupier. From the beginning our training was not so easy, new information, a lot of exercises which I have never did before. And I was thinking it's never going to come. But with patience and instructions ours teachers Diana and Gvidas everything became in true. I spent a great time in Casino Logistic training school. Also want to say thank you to Olena and Irina. They are our guides in any problems and questions. And of course thank you Mr. Trevor for this great experience.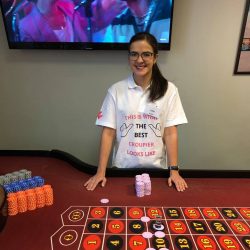 Kryuchkova Elena – January 2018 graduate – Russia:
Hello my name is Elena Kryuchkova and I'm from Sochi, Russia.(25 years old)
I want to say thank you to all staff of Casino Logistic, any questions I had any issues they helped to solve them all!
They arranged everything so well: transfer, accommodation, medical… I had some issue on first day of this training but they were so helpful, so responsive and I really appreciate it.
My roomies were just wonderful, we had so much fun while we were doing our homework, spending time together, exploring Klaipeda (such a lovely small city). I hope we'll stay in touch for future.
This training wasn't easy for me especially first 2 weeks but I'm glad I could make it!
And of course the biggest plus of this training is getting a job after successful finishing of the course.
If you still have some doubts about coming here leave them, this company really knows their business and I'm thankful for all hard work they've done!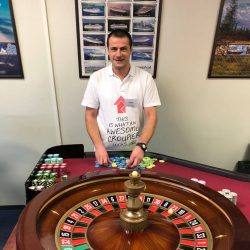 Dimanovski Goran – January 2018 graduate – Macedonia:
I was working on Carnival Triumph as Supervisor for pools and decks when I found out about Casino Logistics from my friend who was working as a dealer on board Triumph. At the beginning of the training I was struggling to remember all the rules and to train my fingers to move properly and fast but after few weeks of practicing I started to feel confident in dealing Blackjack and Roulette thanks to our professional teachers and very good organized training.
Weather in Klaipeda was very cold but our apartment was very warm and equipped with everything that we needed.
I would like to thank to Mr. Trevor for giving me this opportunity and to all employees in Casino Logistics.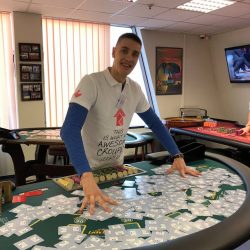 Petrov Nikita – January 2018 graduate – Russia:
Hello, everyone my name is Nikita. I am from Russia. I can say that Klaipeda will stay in my heart. I have been living in Moscow for last 7 years and I had a lot of experience and different feelings and when I thought about Klaipeda I saw small, quiet town where will not be a lot fun, but now I have changed my mind. I thought about living abroad a lot and dreamed about it. Actually Klaipeda is not so far from Russia but I'll already feel this existing feelings be somewhere and start my long journey. Casino Logistics gave me this opportunity to do it by awesome way to be a dealer on the ship. Thank you for that. What can I say about training: everything is not so difficult as tell everybody. I understand that everything what we learned here is ability which demand sometime of practicing and attention. Not for one month, guys, not for one month. That's it. Nothing more. And with practice you will be better and better. What can I say about our teachers: I have never seen such patient and attentive person like Diana. I think she is one of the most capable teachers in my life. Gvidas is kind teacher who mix training sphere by fun, relax and a lot practical aspects of real dealing on the ship. I think they are excellent and suitable team of teachers. Thank you Mr. Trevor for sharing your experience and a lot of useful tricks.
Thank all of you.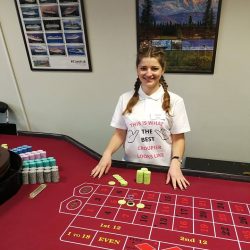 Nazemtseva Natalie – November 2017 graduate – Russia:
Hello. My name is Natalia. I'm from Krasnodar, Russia. I'm 21 years old. I've decided to challenge myself and try something new that's why I came with idea to find a job on cruise ship. Managers Olena and Irina are very friendly and helpful. They organized everything. Few words about studying process: when I received multiplication tables I thought that they were the most difficult things but when I came to Klaipeda I understood that they were drops in the sea. Now I am glad to be here and I want to say thank you to Diana Skrabyte for her patience and professionalism, Mr. Trevor for this opportunity!
Vasileva Ingrid – November 2017 graduate – Russia:
My name is Ingrid Vasileva, I am from Russia. I want to express great gratitude to Casino Logistics team for their help! They are wonderful, ready to help and answer all questions. I decided to return to my favorite profession – Casino Dealer, but I'm 37 years old and I had a huge break of 10 years. I did not believe it would work out. At first it was difficult, but we had a wonderful teacher Diana, who helped in everything, thank you so much! A teacher of the highest professional level.
We must always believe in ourselves! Guys, the main thing is not to be lazy and eventually everything will come true. Good Luck!!!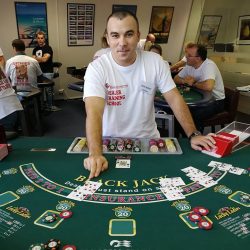 Cotoarba Mihai-Robert – September 2017 graduate – Romania:
In the last 6 weeks I learned a lot of new things while I was in Lithuania for training to become a casino dealer at Casino Logistics dealers school and I had a wonderful time, met a lot of people and made new friends but most important thing, I had the opportunity to learn how to become a casino dealer from a professional team in front with Diana Skrabyte and Gvidas Leliukas. The conditions was great, very nice apartment and Klaipeda is a wonderful city with friendly people. I hope I will come again to Klaipeda. Thank you Casino Logistics for this new and unforgettable experience!
You are the best.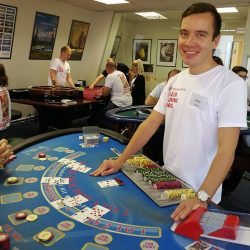 Verishko Andrei – September 2017 graduate – Russia:
Originally I am from a small Russian town Abakan. I would like to say a few words about Casino Logistics training. I studied in Klaipeda, Lithuania. This town is quite and clean and almost everyday raining, but I do love sunny weather. In my opinion training course is very professional with lots of exercises and we spend every minute to improve our skills. Our teachers Diana Skrabyte and Gvidas Leliukas are always willing to help us with everything, they are great. Thank you so much. I lived in apartment in Luzu street, this apartment is really nice, lots of space inside and there is everything in apartment, even roulette layout.
Thank you for opportunity to be one of the students in Casino Logistics school.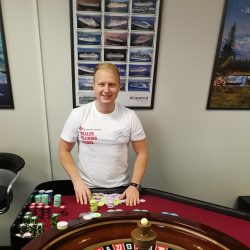 Bilokur Taras – September 2017 Academy graduate – Ukraine:
The first thing I would like share with you is that it has been the most exciting and challenging time in my life. I have learned so many new skills and gained a lot of precious experience which pushed me much further in my professional as a well as personal development. All my gratefulness is sent to Casino Logistics, personally to Mr. Trevor, Diana Skrabyte and Gvidas Leliukas.
This training has opened a brand new world for me and my wife Anna with whom we studied at school.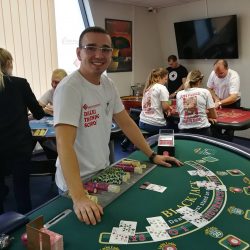 Glisic Stefan – September 2017 graduate – Serbia:
My name is Stefan Glisic, I'm from Serbia, I found about Casino Logistics on internet, and after hours of research I decided to send my CV. From the beginning they was very friendly, helped me with my visa, airplane ticket, medical and all other things. Training was very intense and interesting, because every day we learned something new. Teachers are very good, and nothing is difficult when you are devoted. This is very good opportunity for everyone who like to travel, meet a lot of new people and see a many new places. I want to say thank you Casino Logistics for giving me chance to do one of the best jobs on cruise ship.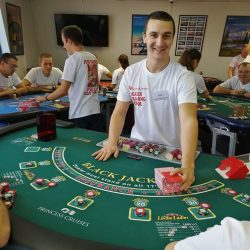 Sesic Jovan – September 2017 graduate – Bosnia and Herzegovina:
My name is Jovan Šešić. The first knowledge about the Casino Logistics I gained from my brother who works on the cruise liner. He highly recommended Casino Logistics to me, since he had heard from many of his friends that the company and the staff are very professional and committed to the work. In all of that I am fully convinced now. I have to state, that in the beginning I was a bit doubtful in myself, since I have no experience in casino games, but professors Diana Skrabyte and Gvidas Leliukas have shown the greatest patience and knowledge and in only 5 weeks got the very best in us out on the surface. Klaipeda is very pretty town and there is a lot to see. We do have all required equipment and tools on the training for quality learning and practice. I have recommended Casino Logistics to my friends who want to learn something new and who want to travel, and some of them have already applied for the coming training. I want to take this opportunity and say thank you to all of the Casino Logistics team and to Mr. Trevor.
Naushirbanova Albina – September 2017 graduate – Russia:
My name is Albina, I'm from Russia. I've heard about the training in the winter and called the Casino Logistics office. The company explained me what I should do, helped with documents, with Visa, sent me instructions (thank you so much girls), and so I arrived here. They found for us good apartments, met us at the airport and transferred to our apartments. I had some vision about the profession, I understood that the job isn't easy, but I didn't know how many rules I must know. First two weeks were difficult, we studied a lot, but now I can say that the training is really cool, because here you learn very intensively, even your fingers living there life, Gvidas and Diana will help you work with chips correctly. I'm very grateful to Casino Logistics for the opportunity to change my life, for traveling and meeting new friends from all over the world.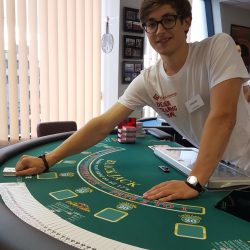 Sulcius Ernestas – July 2017 graduate – Lithuania:
My name is Ernestas. I'm from Lithuania. I was studying in St. Petersburg University. But I always wanted to see the world. I like to travel so much. I found Casino Logistics on Internet and have applied for croupier position.
I can't wait to see other countries, and meet lots of new people.
Thank you Casino Logistics for a completely new experience!
Kirkhmaier Anzhela – July 2017 graduate – Ukraine:
My name is Anzhela Kirkhmaier. I'm 24 years old. I'm from Ukraine. I was looking for a job. I chose Casino Logistic without any doubts, because I was sure that it's the best company since my husband is working there.
Casino Logistics team supported me and helped me become a dealer. It was a pleasure to study with professionals as Diana Skrabyte and Gvidas Leliukas. Thank you so much. Also I met new friends. We had comfortable apartment close to the office provided for all of us. I was happy to share it with them.
This is great experience in my life. I will never forget this marvelous time. I will gladly advise Casino Logistics to everyone who wants to change their lives for the better.
This choice gives you a great job and amazing memories of traveling at the same time.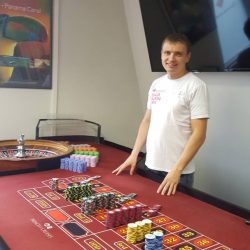 Laskauniov Dmitry – July 2017 graduate – Belarus:
Good day. My name is Dmitry. I am from Belarus. Before now, I have worked on cruise ship. While working on the cruise ship, I met a friend who introduced me the Casino Logistics. I sent an e-mail to them. Casino Logistics helped me with job placement, renting of apartment, training and documentation. They made the whole process easier than expected. The training seems almost impossible at the beginning but with the professional help of Diana Skrabyte and Gvidas Leliukas, I was able to overcome my fears and within few weeks, I became a confident casino dealer to a certain level. The training class can be compared to a real casino floor. All the necessary gaming equipment can be found in the classroom which made training easier and professional. Casino Logistics also helped with renting of apartment where I stayed during my training. The apartment was good and comfortable. I really liked the fact that, the apartment was very close to the bus station. Thank you so much Casino Logistics Team for your help. And to Mr. Trevor – thank you for this amazing opportunity.
Kreslins Rolands – July 2017 graduate – Latvia:
Hey! My name is Rolands, I'm 25 and come from Latvia. I have never been on a cruise ship before, so when I asked a dear friend of mine, what he did for a living, and he replied that he worked as a croupier on a cruise, I had to learn more about it. We talked for hours about the subject and it simply got me hooked. He told me stories after stories about how great of an environment it is to work – you are traveling across whatever the region is, you work in a casino, which is always full of excitement and, most importantly, on a daily basis you are around people who are on a vacation, who are happy and enjoying themselves. A decision was made at that point.
Prior to arriving to the training facilities, Casino Logistics provided me with full information and guidance about everything that was needed – medical procedures, visa, basic information about the job etc., so all I had to do was to show up and the trainers would teach me everything I needed to know to do the job.
I knew about the trainers before, so it was no surprise to me, that they were quite strict and demanding. However, being an adult, I appreciate how we were trained, because we know that is the only way we can learn so much information in such a short amount of time.
Luckily, I applied to training in Klaipeda, which is a great city with a rich history, it's next to the sea, it has its own cruise ship port and it even hosted quite a few events during my stay here.
Overall, I feel thankful for getting here and look towards the next couple of years with excitement!
Damilare Olusoga – July 2017 graduate – Nigeria:
I'm Damilare Olusoga. I got to know about Casino Logistics through my wife (an ex-trainee of Casino Logistics). The progress in her career was very impressive and quite astonishing. To this end, I decided to change my career and train as a casino dealer.
Without any doubt, Casino Logistics team is a very serious and professional team in terms of job placement, documentation and training.
As per training process, the professional guidance of Ms Diana Skrabyte and Mr Gvidas Leliukas cannot be underestimated neither can it be overemphasized. Their professional tutorial skills made the training smooth and efficient. The beginning of the training was very tensed and it seems impossible but with time, it got easier and better. I've always known that, "with desire and strong will", everything is achievable. I must mention that, the training classroom was very conducive, serene and well equipped with all the required materials for training.
In less than 6 weeks, I've been able to acquire some valuable and professional skills necessary to work as a casino dealer (TRAINEE).
The apartment I stayed was awesome, equipped with all the basic amenities necessary for a comfy life and very close to the bus station with lots of supermarket nearby.
To this end, I wholeheartedly say "THANK YOU" to the entire Casino Logistics team for this wonderful opportunity.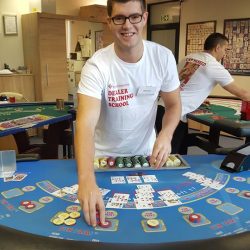 Sehovic Abdulah – July 2017 graduate – Bosnia and Herzegovina:
It was an amazing experience. I'm really glad that was with Casino Logistics Academy. All staff was very welcoming and helpful. I am very satisfied with the skills and tools given to me to become the best I can be.
Apartment was in a great condition and comfortable to stay and shops and bus stations are nearby, everything was perfect.
I am ready to join Casino department!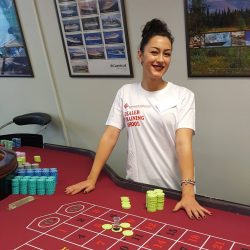 Dragojlovic Danijela – July 2017 graduate – Serbia:
Hi, I'm Danijela from Serbia. I have lived the past six years in Vienna and since 2015 I started my Casino career as a Card dealer. I always dreamed about a travel career and I can't think of a better opportunity than the one I got!
My brother, who graduated back in 2012, suggested me to apply for Casino Logistics and helped me with my first steps.
As soon as I applied and got accepted I got all the helpful information I needed. The whole team is very good organized and I am very thankful for every help I got before I arrived to Klaipeda. Also we didn't need to worry about anything on our arrival either because we already had our apartments organized or we got all the help we needed regarding our medicals, tests, documentation etc.
The first days of school were not that easy, our patience was on test, we received a lot of new information every day and we were struggling to keep up. But thanks to our professional and patient teachers Diana Skrabyte and Gvidas Leliukas we were getting better day after day until learning actually became fun!
I am very thankful to them because they thought me two new games, Black Jack and Roulette, and helped me make a huge step forward in my career by taking care of every detail of my work!
Big thanks to Mr. Trevor for giving me the opportunity to be part of this great team! I had so much fun and made great friends during the training and it is definitely an unforgettable experience!
Now I have the opportunity to do something I love and to travel the world at the same time.
I highly recommend Casino Logistics to everyone who decides to start a career as a Croupier.